MOLECULAR DIAGNOSIS OF ACUTE PROMYELOCYTIC LEUKEMIA AND CML
Acute promyelocytic leukemia (APML): This is caused by the reciprocal translocation t(15;17) resulting in a fusion transcript PML-RARα. This causes an arrest in the differentiation of the myeloid lineage with the resultant accumulation of promyelocytes. There are three breakpoints in PML gene that correspond to bcr1 (intron 6), bcr2 (exon 6) and bcr3 (intron 3). The bcr1 breakpoint is the most common and is seen in 55% of patients. Bcr1 and 2 form long transcripts while bcr3 forms a shorter transcript. The latter transcript is associated with higher WBC count and M3v morphology.
Chronic myeloid leukemia (CML): is caused by t(9;22) forming the BCR-ABL1 fusion gene (Philadelphia chromosome). The protein product of this fusion has aberrant tyrosine kinase activity that stimulates the proliferation of the myeloid lineage which is observed in all stages of maturation. There are different types of BCR-ABL1 fusion transcripts; based on the position of the breakpoints (e13a2 or b2a2 and e14a2 or b3a2 are the most common).
Importance of detecting these fusion transcripts: The identification of transcripts is diagnostic for APML and CML and allows targeted therapy in the form of arsenic oxide for APML and imatinib for CML. Subsequent residual disease monitoring following treatment can also be performed with prior knowledge of the type of transcript.
Identification: These transcripts are identified in cDNA obtained by reverse transcription of extracted mRNA. Two rounds of PCR are carried out with outer and inner primers: known as nested PCR. Nested PCR increases the sensitivity of detection and is relatively easy to perform. A confirmatory PCR is also performed after identifying the transcript.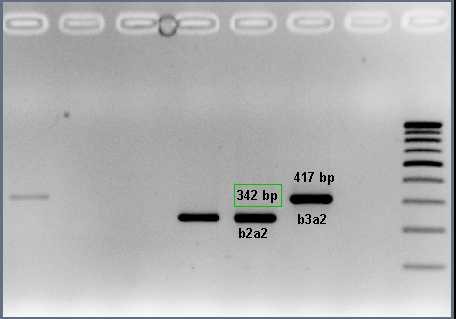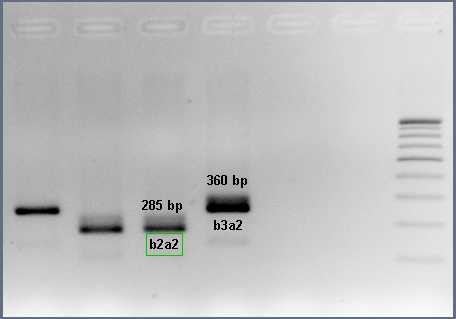 Figure 1: Nested PCR for BCR-ABL1 fusion transcripts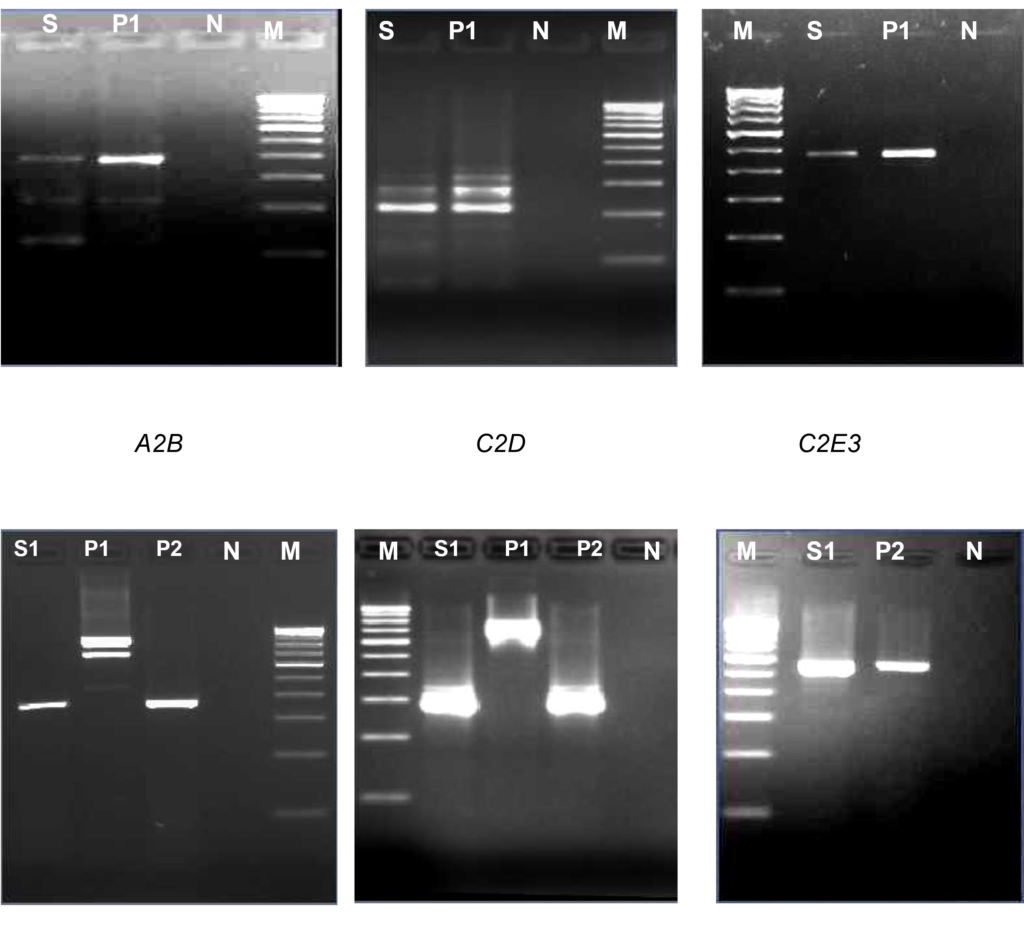 Figure 2: A2B indicates first round and C2D indicates 2nd round. C2E3 is confirmatory PCR. The first panel shows bcr1 transcript and the bottom panel shows bcr3 transcript. The lanes have been loaded as follows:
Lanes S: Patient's sample positive for bcr1 fusion transcript
Lanes S1: Patient's sample positive for bcr3 fusion transcript
Lanes P1: Positive control for bcr1 fusion transcript
Lanes P2: Positive control for bcr3 fusion transcript
Lanes N: Negative control
Lanes M: 100bp molecular weight marker
References:
Van Dongen et al., Leukemia, 1999.